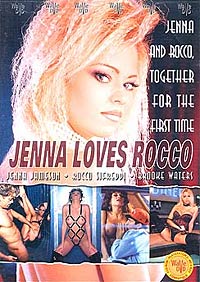 Jenna Loves Rocco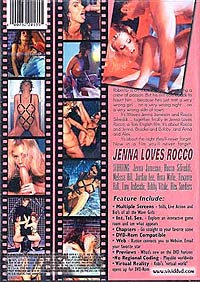 Jenna Loves Rocco
Jenna Loves Rocco - Vivid
Starring: Jenna Jameson, Rocco Siffredi, Brook Waters, Roxanne Hall, Anna Malle, Melissa Hill, Jordan Lee, Tom Byron, Bobby Vitale, Tony Tedeschi, Alex Sanders, T.T. Boy
Rating:

Review by: x4rent.com
Buy this title: USA | UK | Europe | Australia & NZ
This is a great DVD even without the movie. There are a lot of extras - including Previews (four - Plaything, Born Bad, Cathouse, and Night Nurses), Bios, and even a little experimental world called "Kobe's World" wherein you can make Kobe do different things sexually!
Now on to the movie! First, there are two reasons why I decided to watch this - the first being that I was curious to view the explosive matchup between two sexual dynamos (Rocco and Jenna) and how Jenna would handle Rocco(who is notorious for things Jenna does not do on screen, i.e 'get fucked in the ass") - and second was wondering why no one ever rented the flick. I now know that this does not rent because people obviously just do not know about it! It is great movie.
The first scene starts out with Rocco narrating about being in Italy and married (not a horrible thing) - but then we cut to his wife - it's Anna Malle! Arrrgh, now that is a horrible thing. She does a 2 on 1 with Bobby Vitale and Tony Tedeschi - and blah blah - Rocco walks in on them. Suddenly the scene takes a turn for the positive as Rocco, enraged at the cuckoldry shoots all three of them! Yay, she won't be in another scene!
We cut America as Rocco, quote of the movie (Master of Understatement) "After I ended my marriage with Nina, America seemed a good place to lose myself, it was either that or prison!"
After that things keep getting better. Rocco meets Jenna in a diner (as they watch Tom Byron macking with Melissa Hill) and soon after - Jenna gives Rocco her address for a rendezvous - then leaves. I thought maybe they were going to hook up in a week or two - but Rocco immediately get's Tom (a cabbie) to take him to the address. Why they did not leave together is uncertain, but quickly explained as we cut to Jenna's apartment where she can warm herself up by eating pussy. For someone who does not like anal, Jenna sure likes getting her ass licked! This scene also has Roxanne Hall, Brooke Waters (Jenna's clamsnacker) and Alex Sanders - but who cares - we just enjoy looking at Jenna and waiting for the big scene.
Finally Rocco arrives and Jenna takes him to her room (filled with, "Oh my god - kinky Jenna - whips and chains)! At this point (inexplicably) we cut back to the diner where Tom Byron and Melissa Hill have at it in a pretty hot way. It was a nice warmup-and watching Melissa's naked beautiful ass wave in the air as she sucks Tom is great eye candy.
Anyways, Finally we get to the Jenna/Rocco scene. They are about to get it on, but whoa, we are forced to sit through the end of the threesome downstairs (remember?) - which is adequate and includes cumswapping by the girls at the end which is cute. And then really finally, we get to Jenna and Rocco!
My dear readers - this is a balls-to-the-wall hot scene! I wondered how Jenna could possibly survive the onslaught of a Rocco lovefest, and the first thing she does is tie him up. Aha, we think, Jenna is in control! She teases Rocco mercilessly with her succulent tits and forces him to suck her toes. She even proffers her tight little anal rosebud to Rocco - and seems genuinely taken aback when he slams his tongue inside! Ha Ha Jenna - since Rocco's tongue is bigger than Ed Powers or Max Hardcore's penis - I think this qualifies as an anal!
Shortly thereafter, Rocco breaks free from his bonds and fucks Jenna senseless (she develops over the course of her baloney pony ride a hot and sexy glazed expression)!
Suffice to say, no anal, but the sex is so hot, so intense, you almost expect these two to literally burst into flames! There is even a nice oral cum finish where Rocco shows just how kinky he can be!
There is another scene after this, but I did not watch it. I believe the okay scenes leading up to this one really helped to frame the masterpiece of sex that Jenna and Rocco created - and I was not about to lose the warm feeling I had after it.
I will rate this movie as a whole and say, "watch it! It is a classic that you will always cherish."
You can buy Jenna Loves Rocco here: USA | UK | Europe | Australia & NZ