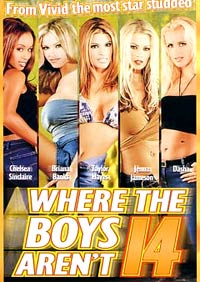 Where the Boys Aren't 14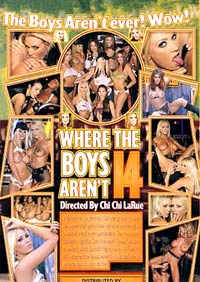 Where the Boys Aren't 14
Where the Boys Aren't 14
Starring: Briana Banks, Kira Kener, Taylor Hayes, Jenna Jameson, Raylene, Datyon, Sinclair, Cheyenne Silver and Dasha.
Rating:

Review by: Roger T. Pipe
Buy this title: USA | UK | Europe | Australia & NZ
Not that there have been a lot of long running all-girl lines in porn, but Vivid's Where the Boys Aren't line is easily the best know of the lot. Some of the biggest names in porn have licked labes in this series, from Ginger Lynn and Christy Canyon to Barbara Dare and Heather Hunter. Now a whole new generation of Vivid Girls is on hand for Where the Boys Aren't 14. Dasha and Taylor Hayes help break in new girls Briana Banks and Chelsea Sinclaire. Also along for the ride is Vivid's newest headliner, Jenna Jameson. She's not new to headlining big rosters and certainly isn't new to full blown veggie orgies. Now for the really interesting addition to the line up, director Chi Chi LaRue. Anyone who has seen Chi Chi can never forget him. He's a big guy who dresses like a woman and directs gay films. What better person to direct an all girl movie than a guy who likes guys but dresses like a woman?
We open in a lesbian bar run by Jenna. The place is very fetish oriented and is full of scantily clad Vivid Girls. We are invited to take a look around the place and stop first at a boot shining station. That gives us some boot licking foreplay as Dasha shoves Dayton's blonde head down between her legs. Kira is watching nearby and eventually joins in on the fun. High style points for this scene as the music and visual style elevate this to a somewhat more artistic level than your average veggie pairing. It's very well shot and the lighting is quite impressive. Still, it's a veggie scene, so measure it that way.
Dasha stays in the center of the action, moving over to the bar where Jenna licks her way down to an already dripping snatch. This is a little bit more straight forward and has some great finger fucking as Jenna jams her digits into Dasha's hole. Returning the favor, Dasha bends Jenna over, tugs her shorts down over her ass and goes to work. Jenna leans back and lets Dasha lick her while she does a sexy little blowjob on a chrome handle from the bar. (Oh, that can't be very clean.) This scene looks really good and has some genuine heat from Jenna who helps Dasha out by spanking her own pussy while it gets fingered.
Jenna's bar comes complete with a collection of male dancers who bump and grind while watching the girls go at it. If the boys leave their position, they get fired, so naturally, the girls tease them in an effort to lure them into the fun. (Fat chance, these guys don't want anything the girls have to offer.) Taylor Hayes and Raylene are in the mix this time and they are both on fire in this mini orgy. The flashing lights and loud music really give it a club feel, but they also give me a headache. I'd rather just watch Briana Banks tongue fuck Taylor without some of the strobe and quick cuts. Again I appreciate the way this scene is shot. It's nicely crafted, but as someone who isn't that into lesbian sex in the first place, the added visual distractions don't make things better.
Chelsea Sinclair cozies up to the bar with Cheyenne Silver. Chelsea has on chaps so her pussy is easy to get to. Cheyenne licks that pretty slit and then rushes up to kiss her new friend. This is kind of hot as she repeatedly sucks clam and then kisses the pretty black girl. She moves Chelsea up onto the bar when she is spread wide for some finger in the ass fun. When Cheyenne finally reverses positions with Chelsea, she squats over her face and creams like mad. This is probably my favorite scene of the movie so far.
All that remains is the mandatory orgy to close the movie. All of the girls come back and take turns being the center of attention. Since this is a pretty nice looking collection of girls, I don't mind watching them all work each other for a while. On the other hand, if you have a favorite, it gets a little frustrating trying to follow one girl. They break out some toys to help move things along. Overall, the scene leaves me a little bored, but there are some fantastic individual shots and some good energy.
Anyone familiar with this series already knows what to expect and they won't be disappointed. Once again the Where the Boys Aren't 14 line means a full line up of Vivid Contract Girls getting it on with each other. Jenna is the lead babe, but her sexual screen time is cut a bit short in this mass of female flesh. Cheyenne and Chelsea actually emerge as the ones to watch in this movie. Their scene is the best of the lot and even has me eager to watch the veggie loving. This is a highly stylized all girl movie with good lighting and great editing. It's a little over done at times for my taste, but since I'm lukewarm on lesbian flicks, it doesn't bother me all that much.
Review courtesy of dvdpornreviews.com
You can buy this title here: USA | UK | Europe | Australia & NZ